July 22nd, 2015
---
J/70 Eurocup Announcement
J/70 Europeans @ YC Monaco!
(Riva del Garda, Italy)- Ever since the J/70 made its European debut at the 2013 Eurocup – held on gorgeous Lake Garda in Italy – the event has become increasingly popular not only with the local fleet, but also with a growing number of boats from all around Europe.  You could say, the Garda "wind farm" is getting ready for the final act of J/70 Alcatel OneTouch Italian Trophy!
The 2015 edition will take place from 9th to 12th September at Fraglia Vela Riva, the first Italian yacht club to believe in the great new J sportboat, designed by Alan Johnstone.  Right from the beginning, Fraglia Vela Riva introduced the J/70 class to an international event on its calendar over the past two years.  As a result, that means J/70s are destined to become THE European one-design sportboat of the current millennium!
Now, Lake Garda gets ready for the third edition of the J/70 international regatta.  Indeed, following the success of last year's J/70 European Championship on Lake Garda, this year many entries are expected with top Olympic & World Champion sailors participating from France, Germany, Sweden, Norway, Switzerland, Great Britain, Spain, Slovenia, Monaco and Italy to challenge for the overall spot of the event that marks the final act of the circuit J/70 Alcatel OneTouch Italian Trophy. You can find the EuroCup NOR/ Registration here.
After the EuroCup, many of the teams will head across the top of Italy to the westernmost edge of the Italian Riviera along the Mediterranean to sail the J/70 Europeans at YC Monaco's spectacular facilities in Monte Carlo.  Jacopo Carrain, President of the Monaco J/70 Class, is expecting more than 50+ boats for the event.  They, too, are looking forward to rolling out the red carpet for J/70 teams from across the continent.  Mark your calendars now for this event being held from 12th to 17th October, about one month after the Lake Garda event.  For more J/70 EuroCup sailing information   For more J/70 European Championship sailing information
---
Sydney Boat Show Features J/70, J/88, J/111!
(Sydney, Australia)- While it may be technically called "winter" in Sydney, it's still warm, sunny and breezy outside most days (at least compared to their over the top friends in Eurasia and North America!).  It is also a great time to visit Sydney and go to the Sydney International Boat Show- the largest recreational marine event in the southern hemisphere.
The show is located at two great waterfront sites on Sydney Harbour: the in-water exhibits are in Cockle Bay Marina in Darling Harbour and the undercover exhibits are at the fabulous Sydney Exhibition Centre @ Glebe Island.  A free ferry service operates between the two locations and the journey on beautiful Sydney Harbour takes on average 25 minutes to complete.
The local J/Dealer, Yachtspot, will be displaying a J/70, J/88 and J/111 during the show that runs from 30th July to 3rd August.  Come on down to the show and find out what Australians are already learning about why the International J/70 Class has been growing by leaps and bounds and is gaining momentum across Australia.  Also, discover why the J/111 continues to go from strength-to-strength in Sydney and Melbourne offshore racing circles.  Plus, get a chance to hop aboard the J/88 and be prepared for "shock & awe" as you hear about it's serious turn-of-performance in the light stuff as well as its ability to "getup on the step" and simply send it downhill over 15 kts with the big A2 kite.
To make an appointment or learn more about the show, please contact Ray Entwistle @ Yachtspot.com on mobile-  +61-0406-562262 or email- info@yachtspot.com.au.    For more Sydney International Boat Show information
---
Edgartown Race Weekend Preview
(Edgartown, Martha's Vineyard, MA)— There are two ways to approach Edgartown Yacht Club's Race Weekend, scheduled for Thursday, July 23 through Saturday, July 25. Come for Saturday only to compete in the 56 nautical mile 'Round-the-Island Race. Or, go for a full three days of total-immersion racing therapy, come Thursday and Friday for two days of 'Round-the-Buoy Races before circumnavigating Martha's Vineyard on Saturday.
Stephen McManus (Annapolis, Md.), owner of the J/120 SAYKADOO, is sailing all three days.  "We had been cruising in the area for 10 years, and last year I thought why not just do this regatta, so we did, and we loved it," said McManus, who races SAYKADOO primarily on Chesapeake Bay and this year got the boat to New England by way of entering the Annapolis to Newport Race. "You do some sailing outside the harbor, get a couple of races in each day, and it gets you warmed up for the weekend. You can't beat Edgartown in late July, and Edgartown Yacht Club does a fabulous job of hosting and provides good communication for someone like myself coming from a long distance."
McManus said that instead of renting a house, SAYKADOO's owners chartered, like they did last year, a 50-foot cruiser that will sit on a mooring in Edgartown Harbor where the J/120 can easily raft alongside it in the evenings.  He looks forward to competition from another J/120, APRES, owned by Stephen Besse of Vineyard Haven, and the J/46 WINGS, owned by Richard Egan of Hyannis, Mass.
"The J/46 rates similarly under PHRF, and we owe the J/109 time, but a 109 can beat a 120 and vice versa, depending on the conditions," said McManus, also mentioning the two very competitive Navy 44s, Tenacious and Gallant, that are returning from the Naval Academy.
And while the Annapolis to Newport Race takes between three and four days to complete, the 'Round-the-Island Race starts Saturday morning and typically finishes in the late afternoon that same day. "Last year, it was a really nice breeze in the low teens, and we had every point of sail: upwind while we went down the east side, a reach down the southern side, spinnakers on the way up Vineyard Sound, and a reach back to the finish outside Edgartown Harbor."
For the Round Buoys event on Thursday-Friday, the big deal is the PHRF class with 20 boats registered.  The boats range in size from 37 to 50 feet.  The fastest rated boat in the class is the J/111 JEREMY SMALL sailed by Mike Williamson from Portsmouth YC.  They will be up against a trio of J/120s, including McManus' SAYKADOO, Besse's APRES and Richard Joy's KINDRED SPIRITS from Mattapoisett YC.  The Egan's J/46 WINGS is also sailed, as are two very fast J/109s- Ted Herlihy's GUT FEELING (a past J/109 NA Champion) and Ed Dailey's RAPTOR.  Two one-design J/105s will be out there, including Matt Schmitt's HARDTACK and the Joyce/ Reservitz/ Wagner trio on DARK'N'STORMY from Plymouth YC.  One other 35 foot J will be in their midst, Ashley Simpson's J/35 UNCLE JOE!
The classic Round Island Race is about as long as the "other" classic Round Island Race- the Isle of Wight in Great Britain.  Both cover over 50nm of sailing (depending on how you sail it) and both have copious amounts of current, sometimes fog, plenty of wind, lots of shoals and rocks and plenty of opportunities to play the various points, lighthouse and bays for tactical advantage.  In the IRC Division, the recent IRC East Coast Champion in Division 3, AUGUST WEST, will be sailed by James Shachoy and crew from Beverly YC.  The PHRF Division mushrooms into 38 boats, nearly twice the Round Buoys fleet.  Joining the boats above will be two more J/111s- Doug Curtiss' WICKED 2.0 (a 3x past Round Island Class champ) and Mike Williamson's BRIGADOON.  Another J/109 will jump in for the tour of the island, Eliot Shanabrook's HAFA ADAI from Marblehead YC, as will the J/37 CARINA skippered by Will Passano from Gibson Island Yacht Squadron.  And, another J/105 will join the fray for class honors; the local juniors from the Nantucket Community Sailing center will be aboard PRIMA with skipper Chris Raymond.  Finally, Steve Dahill's J/35c RIVA from Beverly YC will be keepin' them all honest!
The PHRF Non-Spin division will see the addition of the J/42 PANASEA sailed by Kent Nicholas from Red Brook Harbor YC.  For more Edgartown Regatta sailing information
---
Santa Barbara- King Harbor Race Preview
(Santa Barbara, CA)- The 2015 Santa Barbara to King Harbor race, co-hosted by Santa Barbara YC and King Harbor YC, will start off their 81nm distance race (a.k.a. "sprint") this coming Friday afternoon around 1300 hrs.  The race has been a tradition for Santa Barbara and King Harbor sailors for 42 years and typically fields over 50 entries per year.  So far, 51 boats have registered and are hoping that "classic" SB-KH weather conditions predominate for the tour through the Channel Islands, around Anacapa Island to port and into the finish line south of Los Angeles, just below the gorgeous hillsides of Palos Verdes peninsula.
The PHRF Division is massive, with 32 boats vying for Division honors overall as well as class awards.  Top of the heap for J/Teams in terms of elapsed honors should be Dr Laura Schlessinger's J/125 WARRIOR.  After winning her class last year on her J/88 CRAZY EIGHTS (and just missing Overall honors by minutes), she's hoping to repeat that performance this weekend.  Chasing her team down the track will be a local KHYC boat, the J/111 STAMPEDE sailed by Glenn Griley (a past Long Beach PHRF Class winner in the same boat).  Other J/Teams in the hunt should be Rich Festa's J/120 PRIVATE RESIDENCE, Tom Cullens' J/109 FUEGO from SBYC, Tom Hinkle's J/40 WHITE LIGHT, Brian Kerr's J/92 DOUBLE DOWN, and Denise Imhoff's J/22 FLEEBOFLAM (the smallest boat in the fleet at 186 PHRF and, scarily enough, could easily be an overall winner!).  For more Santa Barbara- King Harbor sailing information
---
Marblehead NOOD Preview
J/70 New Englands Preview
(Marblehead, MA)- The last of the major Helly Hansen NOOD Regattas for the sailing season is taking place in Marblehead, MA this coming weekend.  The NOOD events have proven popular in some venues and the Marblehead edition continues to be one of highlights of the summer season in New England.  With large one-design fleets of J/24s, J/70s and J/105s the regatta will again look like a mini-J/Festival!
The J/70s are running their New England Championship in conjunction with the NOOD.  With twenty-three teams on the starting line, things could get exciting, even for the veteran racers that are entered.  Recognizable vets include Jud Smith on AFRICA, Frank McNamara's CHINOOK, Sam Altreuter's LEADFOOT, Henry Brauer & Stew Neff's RASCAL, John Brim's RIMETTE, Will Welles' SCAMP, Dave Franzel's SPRING, Bruno Pasquinelli's STAMPEDE (traveling from Fort Worth Boat Club in Ft Worth, Texas!), Brandon Flack's TORQEEDO, and Bodo & Nick con der Wense's TURBO DUCK.  Newcomers that could be a factor in the leaderboard may be Tyler Doyle on USA 245, Holly Fabyan on ASTERIA and Nancy Glover on WINTER WIND.
With an eighteen-boat turnout, the J/105s will once again enjoy excellent racing offshore.  Familiar boats often challenging the top boats in the fleet are Fred de Napoli's ALLEGRO SIMPLICITA, Ric Dexter's CIRCE'S CUP, Charlie Garrard's MERLIN, Steve Hollis' SCIROCCO, Mark Lindquist's STERLING and Mark & Jolene Masur's TWO FEATHERS (another entrant from the Fort Worth Boat Club in Texas!).
The J/24 class continues its long-standing tradition of support for big Marblehead events.  The nine-boat class may not be huge, but it makes up for the numbers with a competitive fleet.  Top dogs include Carter White's SEA BAGS SAILING TEAM from Portland YC, John Wells' SHELDON J and John Denman's AIRODOODLE from Jubilee YC in Beverly, MA.  For more Helly Hansen Marblehead NOOD regatta sailing information
---
Ugotta Regatta Preview
(Harbor Springs, MI)- Sailboats from across America head to Harbor Springs each summer for one of the grander sailing traditions on the Great Lakes: the Ugotta Regatta. Hosted by the Little Traverse Yacht Club, the Regatta brings together some of the best sailboat racers in the country to Little Traverse Bay, easily one of the prettiest bodies of water in all the Great Lakes. Ugotta Regatta takes place the weekend following the second of the Mackinac Races (Port Huron-Mackinac, Chicago-Mackinac).
LTYC's Ugotta Regatta is open to all sailors but there is one caveat, there is a city-required cap of 88 boats and registration is first come, first served. The series begins with one design racing on Thursday and Friday followed by tour-of-the-bay courses on Saturday and Sunday. The weekend's festivities kick off bright and early Friday morning with a fun tradition: a long line of happy people beginning at sun up outside Irish Boat Shop to purchase the 2015 Ugotta Regatta t-shirt. Each year, the shirt design changes and with a limited production, the lines begin early to score a coveted shirt.
There are two very healthy fleets of J/70s and J/120s joining the festivities this year in addition to a slew of J/Teams participating in the PHRF handicap fleets.  The J/70s have ten boats on the starting line with a bunch of out-of-towners driving hundreds of miles to enjoy this little corner of the world.  The locals have six boats sailing for LTYC, including Polk Wagner's ESCAPE, Tom Bosch's JAMMIN, Chal Curtis' SUNDOG, Jeff Towner's DOWNTOWNER, Scott Sellers' TRD BURRITOS and Richard Lehmann's WIND CZAR.  Top visitors include Ed Furry's SAIL22 FALE from Culver, IN; Adam Bowen's BLACK PEARL Brookfield, IL; and Andrea Krasinski's BUCEPHALUS from Chicago YC in Chicago, IL.
Similarly, the J/120s have an excellent field of boats mostly from the Detroit side of Michigan- a.k.a. "the Grosse Pointe Mafia".  In fact, the entire fleet sailed over using the Bayview-Mackinac Race as their "feeder" event for Harbor Springs!  It's the roll of the dice to determine how these crews will end up after Sunday's racing.  Nevertheless, Frank Kern's CARINTHIA and Mike & Bob Kirkman's HOT TICKET are always a factor.  But, don't count out Charlie Hess' FUNTECH Racing, John Hughes & Ed Vermet's NAUTI-BOYS nor Curt Kime's VICTRIX.
In the handicap world of PHRF, division 2 has two J/111s dueling with two J/122s- all top boats in their respective classes.  Dave Irish's NO SURPRISE and Brad Faber's UTAH should hold up the J/111 side of things while Mitch Padnos' SUFFICIENT REASON and Robert Mampe's GOTTA WANTA will be doing their best to repeat the famous duels we so often see at Key West Race Week between the 111s vs 122s.
PHRF 3 class sees a trio of J/35s hoping to sweep their class, including Phil Velez's AMANTE, Ed Bayer's FALCON and Melia Carter's SPECIAL K.
A quartet of J/105s are sailing PHRF 4 class, led by class leader Carter Williams on CREATIVE DESTRUCTION along with William Petzold's GREEN FLASH, Jay Vander Wall's MANITOU and Sam Powers' GRYPHON.  Joining their battles for class leadership will be Raenette McManus' J/100 COURAGE and Gary Stewart's J/80 POINTYHEAD.
Finally, in PHRF NonSpin we find the globe-girdling couple of Bill and Judy Stellin of Macatawa Bay YC sailed their famous J/42 JAYWALKER against a Hinckley 42, Farr 33 cruiser, and an Alerion 33 daysailer.  Should be fun for them!  For more Ugotta Regatta sailing information
---
CanAm Challenge Preview
(Youngstown, NY)- The Youngstown Yacht Club will be hosting the 2nd Annual CanAm Challenge July 25 & 26th.  The regatta is open to all boats.  Any class that has 5 registered boats will compete as a One Design Class, and boats without a One Design Class will compete in a series of 2 Pursuit Races.
The CanAm Challenge is a competition of the boats individually but also to defend their nation.  In 2014, Canada was victorious, but 2015 is a whole new year.  Who will win? On shore, activities will include live music, a street hockey competition, and a chicken dinner for competitors!
The regatta has strengthened considerably and grown tremendously in the past year since the inaugural event in 2014.  The event now features one-design classes of J/22s, J/24s, J/70s, J/27s, J/88s and J/105s. For the latter two, it's the Great Lakes Championships for both the J/88 and the J/105.
The J/88 class will see its largest gathering of boats in a one-design event to date with eight boats on the starting line.  In their on-going duel that started in Key West and continued in Charleston Race Week, we find Iris Vogel's DEVIATION crew from Huguenot YC up against Rob & Sandy Butler's pink & grey themed TOUCH2PLAY RACING from Hamilton Harbor YC in Hamilton, Ontario.  They are facing a number of new and veteran teams such as Laura Weyler's DEBUT 88, Joe & Jeff Pawlowski's EASY EIGHTS, Rich Lohr's NIGHT OWL, John Frank's RUMBLE BEE, Don Finkle's SEAWEED and Joe O'Brien's SQUIRMY.
With nineteen boats, the J/70s are easily the largest class at the regatta with a nice mix of familiar veterans coming up against new teams.  Tim Finkle's Junior, Corbo Corbishley's LATE LIFE CRISIS, Morgan Paxhia's PENNY PINCHER, Marty McKenna's RARITY, Tom Bowen's REACH AROUND, Scott Weakley's REX and Kristofer Werner's SUPERFECTA should be on fire somewhere near the front of the fleet.  Teams have come from as far as San Francisco, CA; Vienna, VA; Charleston, SC and Stonington, CT to enjoy the pretty sailing at the western end of Lake Ontario (right next to Niagara Falls!).
As a J/22 stronghold for decades, it's not surprising to see a very competitive turnout of thirteen J/22s for the regatta.  While missing one of the Doyle clan to the J/22 Worlds about to start in Travemunde, Germany, none other than Travis Odenbach from Rochester YC will be sailing QUANTUM SAILS ROCHESTER.  Stiff competition should come from Mark Stuhlmiller's EUDAIMONIA, Vic Snyder's MO'MONEY, Trevor Collins' ALTERNATIVE GIRLFRIEND and Ron Harris' BROOMSTICK.
Also with a good showing is the dozen-boat J/105 fleet with just about all Royal Canadian YC teams.  The local American street hockey guys better watch out for these loonies, half of them used to play Senior A or pro hockey!  Fresh off his J/24 Silver Medal at the Pan Am Games will be Terry McLaughlin's crew on MANDATE (they're also the J/105 North American Champions in 2014).  Giving them a fierce dogfight is always Jim Rathbun's HEY JUDE (another J/105 NA Champion in Annapolis, MD).  In the hunt will be Peter Hall's JAMAICA ME CRAZY and THE USUAL SUSPECTS.
On a rebound for the past few years is the local Lake Ontario J/27 fleet.  This year nearly a half-dozen boats will be on the line.  Past class champions like Andrew Riem's CURVED AIR, Mike Seitz's NORTHERN SEITZ and Andre Beese's MESSING ABOUT will be duking it out for the gold.
The J/24s will feature a 2-on-1 bout between two American teams- Gabe Lewis' HANG LOOSE & Dave Stoller's TBD up against the Canadian Rick Sherk on BAD HABIT from Niagara-on-the-lake, Ontario.
Finally, the PHRF Pursuit races have Robert Hesse's J/111 LAKE EFFECT, Denys Jones' J/109 CARPE VENTUS, Paul-Angus Bark's J/35 CRIME SCENE, John Reinhold's J/124 FUTURES and Doug Clarke's J/35c ROGUE WAVE all hoping to cross the finish line at the same time! Well, maybe not.  But, that's the idea!
Sailing photo credits- TIm Wilkes.com.  For more CanAm Challenge sailing information
---
Royal Yacht Squadron Bicentenary Preview
(Cowes, Isle of Wight, England)- This year the Royal Yacht Squadron, founded in 1815, achieves its bicentenary. To mark the occasion, the Squadron is hosting an invitational regatta to bring together as many clubs and friends as possible from around the globe, who share their common interests and love of sailing.  The event takes place from the 25th – 31st July.
The RYS has planned a week of challenging on the water activities and numerous spectacular social gatherings to complement them. These will take place in the evenings after the sailing has finished both at the Castle and other notable venues nearby. There are different sailing events planned to both attract and test the many disciplines enjoyed by sailors.
Twenty-five yacht clubs have been invited to take part and will join the Royal Yacht Squadron for five days of spectacular racing in a 200-strong fleet, including modern and classic boats racing under IRC, J/70s, and up to five J-Class yachts.
"Our aim is to make sure owners and crews will leave at the end of the event with many happy memories. Participation in the International Bicentennial Regatta will help forge stronger ties between our clubs," commented Chris Sharples, the RYS Commodore.
Founded on June 1st 1815 at the Thatched House Tavern in St James Street London, the Squadron was originally called "The Yacht Club". It attracted royal patronage in 1817 when the Prince Regent, later King George IV, became a member. In 1833, King William IV renamed the club "The Royal Yacht Squadron" (R.Y.S.) declaring his "gracious approval of an institution of such national utility" for its role in supporting the Royal Navy and the maritime trades of Britain.
Queen Victoria's husband Prince Albert became Patron of the R.Y.S, and his son, the Prince of Wales, was Commodore for 18 years (1882-1900). King George V, also a keen yachtsman, was Admiral of the Squadron throughout his reign. The present Admiral, HRH the Duke of Edinburgh, was Commodore from 1961 to 1968.
Throughout its 200 years, the Squadron's contribution to yachting has been unique, starting with its role as the leading club in the establishment of sailing as a sport in the years 1815-1850. The 1851 race for the 100 Sovereign Cup– later renamed the "America's Cup"– was organized by the Squadron, as were several later challenges. The Squadron, through its affiliate Royal Yacht Squadron Racing Ltd, is making a new attempt to win the cup in 2017 with a team led by Sir Ben Ainslie.
In the 19th century, Cowes became a "home" of the British sport of sailing (like Lords, Wimbledon, Newmarket or Henley). It was also the center of the European social world during regatta week, particularly in the years 1850-1914. The RYS continues to play a leading role in Cowes Week and other local regattas that make a much needed financial contribution to the Isle of Wight economy.
In recent years, the Squadron has placed greater emphasis on encouraging younger sailors through its April Training Week in J/109s for those aged 16 to 20 and the RYS Sailing Academy program for those aged up to 30 using the new fleet of J/70s. To create a lasting legacy as part of the bicentenary celebrations in 2015, the Squadron members are contributing to a new charity, The RYS Isle of Wight Foundation. The charity will provide financial assistance to educate and train young individuals who live on the Isle of Wight and seek a career connected with the marine industry.
As part of the Bicentenary Regatta, the fleet of new J/70s will be used for 2-on-2 team racing- a very exciting form of team racing since "last loses" every time.  The confirmed list of entries in this particular event include the host RYS team, the New York YC, Germany's Norddeutscher Regatta Verein, the Royal Ocean Racing Club, the Royal Southern YC, the Royal Thames YC, St Francis YC from San Francisco, CA, the YC Costa Smeralda from Porto Cervo, Sardinia, the YC de France and also Oxford University.
On the IRC fleet racing side of things, there are 35 boats representing the 25 invited clubs.  The Royal Hong Kong YC entry is the chartered J/122 JACOBS LADDER sailed by a team of RHKYC members.  They are led by J/109 WHISKEY JACK owner Nick Southward, a boat with a reputation as a strong competitor in regattas and races in the waters off Hong Kong and Southern China and in the South China Sea.
Back in Hong Kong, Southward's WHISKEY JACK has had recent notable achievements including winning the IRC division of the 2015 San Fernando Race, the 2014 China Cup International Regatta, and placing second in the 2014 China Coast Regatta. He says "The Regatta provides an exceptional occasion for the skipper and crew to represent the Royal Hong Kong Yacht Club at this major international competition in waters that hold fond memories for a number of those aboard. We are looking forward to experiencing sailing together in the tough conditions of the Solent against stiff competition from around the world, and equally to enjoying the celebratory atmosphere of the event."  For more Royal Yacht Squadron Bicentenary Regatta sailing information
---
Ida Lewis Distance Race Announcement
(Newport, RI)- Featuring four coastal race courses between 104 nm and 177 nm, the Ida Lewis Distance Race is the perfectly designed overnighter for IRC, PHRF, One Design, Multihull and Double-Handed boats of 28 feet or longer. Its round-trip course starts and finishes off the historic Ida Lewis Yacht Club and includes turning marks at Castle Hill, Brenton Reef, Block Island, Montauk Point, Martha's Vineyard and Buzzards Tower.
Both grand prix racers and cruising sailors have come to love and embrace this August tradition, which also offers special trophies for a Youth Challenge and Collegiate Challenge.
The eleventh edition of the Ida Lewis Distance Race is scheduled for Friday, August 14, 2015. It is a qualifier for the New England Lighthouse Series (PHRF); the Northern and Double-Handed Ocean Racing Trophies (IRC); and the US-IRC Gulf Stream Series Competitors are invited to enjoy the Awards Ceremony and cocktail party with their family and friends on the deck of Ida Lewis Yacht Club Saturday evening.  For more Ida Lewis Distance Race sailing information
---
J/Sailing News
The Sun Never Sets on J's Sailing Worldwide
As the third week of July passes by, several summer-long series are slowing coming to a conclusion in both the Americas and Europe with leaders becoming more clearly defined in the process.  In Italy, two series are having close, competitive sailing- the J/70s and the J/24s.  The J/70 Alcatel OneTouch Italian Championship had its third Act in Cervia, Italy while the J/24's had their fourth stage of their Italian J/24 Nationals at the Grassi Cup held in Del Lario, Italy.  In addition, the UK J/24 sailors settled scores by completing their UK Nationals off the beautiful grassy cliffs of Plymouth, England.
Down Under, the winter is blowing by quickly and off the western end of Australia, the Western Australia IRC Championship recently took place off Fremantle, Australia (site of the most amazing America's Cup ever).  A J/122 was making its mark on the local handicap fleets that were quite surprised by this "cruiser-racers" performance— many remarked that it actually had a "fridge" and could go straight upwind like a shot to the moon!
Meanwhile, over in the Americas, the Canadians hosted this year's Pan Am Games in Toronto, Ontario, Canada.  Host for the sailing games was the Royal Canadian YC in a fleet of J/24s.  The local boys, unsurprisingly, did well.
South of the Canadian border there was a bit of sailing activity.  The humongous Bayview Mackinac Race completed with the fleet successfully navigating a wee storm/ squall from Port Huron to Mackinac Island, MI.  Out East, things were a bit busy across the one-design/ handicap-racing spectrum.  The famous old Red Grant Regatta took place off Perth Amboy, New Jersey; the event doubled as the J/109 East Coast Championship and the J/105 East Coast Championship.  Not far away, Larchmont YC played host to the Larchmont Race Week that included fleets of J/70s, J/105s, and PHRF sailors.  Still a bit further northeast, the J/70s had their debut in the Edgartown YC Annual Regatta off Edgartown, Martha's Vineyard.  Then, earlier in the month, the J/24s had their Florida States off Coral Reef YC on Biscayne Bay in Florida. In addition to the Bayview Mac Race, the Erie Interclub Race Week took place on Lake Erie.
Moving out west, the Santa Barbara YC hosted their Fiesta Cup Regatta with a fast-growing fleet of J/70s sailing off Santa Barbara, CA.  For offshore aficionados, the Transpac Race has seen several updates for the fleet racing from Long Beach, CA to Honolulu, Hawaii.  Needless to say, they're enjoying unusual weather conditions.
Read on! The J/Community and Cruising section below has many entertaining stories and news about J/Sailors as well as cruising blogs about those who continue to enjoy the Caribbean and the South Pacific, staying warm while others are trying to stay warm up north.  Check them out!  More importantly, if you have more J/Regatta News, please email it or upload onto our J/Boats Facebook page!  Below are the summaries.
---
Regatta & Show Schedules:
Jul 13- Transpac Race- Los Angeles, CA
Jul 19-25- J/22 World Championship- Travemunde, Germany
Jul 23-26- J/70 New England Championship- Marblehead, MA
Jul 23-26- Helley Hansen Marblehead NOOD Regatta- Marblehead, MA
Jul 25-26- CanAm Challenge- Youngstown, NY
Jul 25-26- J/88 Great Lakes Championship- Youngstown, NY
Jul 25-26- J/105 Great Lakes Championship- Youngstown, NY
Jul 23-25- Edgartown Race Weekend- Edgartown, MA
Jul 23-26- Helly Hansen Marblehead NOOD Regatta- Marblehead, MA
Jul 23-26- Ugotta Regatta- Harbor Springs, MI
Jul 24-26- Santa Barbara- King Harbor Race- Santa Barbara, CA
Jul 25-26- J/105 Great Lakes Championship- Youngstown, NY
Aug 1- RORC Channel Race- Cowes, Isle of Wight, England
Aug 7-9- J/27 North American Championship- Oakville, ONT
Aug 7-9- Verve Cup Offshore Regatta- Chicago, IL
Aug 7-9- Buzzards Bay Race Week- Dartmouth, MA
Aug 8-11- J/111 EuroCup Regatta- Cowes, Isle of Wight, England
Aug 8-15- AAM Cowes Race Week- Cowes, Isle of Wight, England
Aug 8-16- Nantucket Race Week- Nantucket, MA
Aug 14- Ida Lewis Distance Race- Newport, RI
Aug 16- RORC Fastnet Race- Cowes, Isle of Wight, England
Aug 28- Sep 4- J/24 World Championship- Boltenhagen, Germany
For additional J/Regatta and Event dates in your region, please refer to the on-line J/Sailing Calendar.
---
L'ELAGAIN Wins J/70 Alcatel OneTouch Act III
(Cervia, Italy)- L'ELAGAIN owned by Franco Solerio, along with assistance from Daniele Cassinari on tactics, took overall victory in the third leg of the J/70 Alcatel OneTouch Italian Trophy held in Cervia from 12th to 14th June. The event organized by the local Yacht Club in collaboration with the J/70 Italian Class saw the national fleet and Mikael Lindqvist's ROCAD RACING from Sweden completing 9 windward-leeward races over three days. The water off the pleasant Adriatic coastal resort served up near perfect conditions with Southerly breeze ranging from 12 to 16 knots.
Franco Solerio on L'ELAGAIN finished first and second in eight of 9 races, claiming his second stage victory one day in advance. Second Place went to CALVI NETWORK owned by Carlo Alberini, tied with equal points in third with Pietro Saccomanni's SPIN ONE.
Consistent performances over each of the three legs have left Solerio at the top of the overall classification after 23 races sailed for the national title and with a final stage due to be held in September on the famous Lago di Garda in northeastern Italy. Luca Domenici's NOTARO TEAM dropped from first to second place overall and the Swedish ROCAD RACING is in third, followed by Alessio Marinelli's UJI UJI.   For more J/70 Alcatel OneTouch Italian Trophy sailing information
---
Fast & Furious Bayview Mac Race!
J/111 UTAH Takes Doublehanded Class!
(Mackinac Island, MI) – According to Chairman Peter Wenzler, who sailed aboard Bill Alcott's (St. Claire Shores, Mich.) 65-foot Equation, a "white squall" hit the fleet shortly after the start, making a whole lot of wind out of what started as a light downwind breeze. While some spinnakers became streamers at the tops of masts, others were locked and loaded or temporarily switched out for easier-to-handle headsails before the wind calmed and then elevated again to a more sustainable and "for the most part wonderful" 22 knots over flat, waveless water.
The bigger boats sailed the 259 nm Cove Island Course while the smaller boats sailed the 204 nm Shore Course, with both courses finishing at Mackinac Island.  The bigger boats enjoyed a strong beat home in 18-22 knots after turning the corner at Cove Island. The bulk of the Shore Course fleet enjoyed a mid-morning finish today, reaching in a solid 20-25 knots. "From 5:45 to 8:00 a.m., there was a cannon going off every few seconds, as they came in fast and furious," said Wenzler.
Some of the big J/Boats relished the Cove Island course after a sleigh-ride to the turning mark off Georgian Bay in Canada and heading west to Mackinac Island.  Near the top of Class B Racing in 3rd was the J/145 VORTICES skippered by Chris Saxton from Bayview YC.  Not far off the pace in 6th was the J/44 SAGITTA sailed by Jon Somes & Larry Oswald from Bayview YC.  Then, in 14th was the J/133 SIROCCO 3 sailed by Bob Klairmont of Chicago YC.
Also taking the long way to Mac was the ten-boat J/120 class, sailing as Class C One-Design.  Topping all comers and upsetting the possible Bayview YC sweep was the crazy team on IHNSANITY led by the duo of Marvin Ihnen and Kenneth Tanner from Crescent Sail YC.  The next four spots were BYC teams, taking 2nd was Mike & Bob Kirkman's HOT TICKET; 3rd was class leader Frank Kern on CARINTHIA; 4th was VICTRIX's Curtis Kime; and 5th were the Ed Vermet & John Hughes on the infamous NAUTI BOYS.
Sailing lights out after finishing the Super Mac this year (yes, the one that starts in Chicago, finishes one stage at Mackinac Island, then continues to another finish at Port Huron, MI for 635nm in total), Brad Farber's J/111 UTAH from Macatawa Bay YC won Class F- Doublehanded!
Not surprisingly, the Level 35s sailing in Class G Racing were pretty much dominated by top Great Lakes J/35 teams.  And, as a past Bayview Mac champion innumerable times, it was yet again Bill Wildner's MR BILLS WILD RIDE from North Star Sail Club that took class honors in style and with the most awesome music lists going from 8 mile in Detroit!  Second was MAJOR DETAIL sailed by Bill Vogan from Port Huron YC; 3rd was Greg Whipple's WHIPLASH from Tawas Bay YC; and 4th was the ubiquitous TIME MACHINE skippered by Robert Gordenker from North Cape YC.
Similar to their J/35 stablemates, the J/105s nearly swept Class J Racing, taking 4 of the top 5 positions. Leading everyone home was WINDSHADOW helmed by Jim Murphy from Bayview YC.  Following in their tracks in second place was Mark Denuyl's GOOD LOOKIN from Port Huron YC, then in 4th was Don Harthorn's SNAKE OIL from Lake Shore Sail Club and 5th was last year's winner- PTERODACTYL skippered by Mark Symonds from Grosse Pointe YC.  In their first major offshore outing on Lake Huron was the J/88 SARALYSIA sailed by Chester Kolascz from Bark Shanty Sail Club; their 6th place was most excellent considering their team was still in "learning mode- part I" in some pretty demanding sailing conditions.
On the shorter Shore Course reserved for the smaller boats two J teams faired well.  In Class L Racing, taking 8th place was the J/29 RED DOG sailed by Cliff Ruchstuhl from Port Clinton YC and in Class Q Racing finishing 9th was the J/30 CONUNDRUM skippered by Don King from Lake Shore YC.  For more Bayview Mackinac Race sailing information
---
J/122 Wins IRC East Coasts
(Newport, RI)- With all the regattas that populate the summer sailing schedule in Newport, RI, it's a surprise to find there's any kind of a hole between Memorial Day and Labor Day. In fact, however, the odd years had little competition for larger, handicap yachts after the New York Yacht Club Annual Regatta presented by Rolex in early June. Therefore, the New York Yacht Club's Sailing Committee decided to fill the gap with a mid-season IRC regatta. Both four-day events were run out of the New York Yacht Club at Harbour Court and finished up on Sunday with all fleets sneaking a single race into a day marred by a very persistent fog bank.
Despite being a last-minute addition to the schedule, the 2015 IRC East Coast Championships proved its worth by pulling in 26 boats from 30 to 55 feet. Equally as impressive was the variety of designs and ages of the yachts that competed in the event, from NYYC Rear Commodore Bill Ketcham's J/44 MAXINE (build in 1989) to the brand new IRC/HPR custom machines.
"I think the biggest success was the participation we had," said event chairman Art Santry. "We had 26 boats and we did not have much time to get it organized and get the word out. I think the second biggest success was if you looked at the types of boats that did well, it was pretty varied. That's a testament to PRO Sam Wakeman, who put together the courses. It wasn't strictly windward-leeward, it was a lot of different stuff that worked out for everybody."
The IRC 2 class saw spirited competition for the top three slots.  It wasn't until the final two races that the top three was determined.  Finishing just three pts from first, NYYC Rear Commodore Bill Ketcham's J/44 MAXINE from Greenwich, CT took third place and even collected two 1sts and two 2nds along the way and, in fact, had by far the best last five races in their fleet- averaging a 2nd place!
In IRC 3 class, the J/122 AUGUST WEST, skippered by Jamey Shachoy, was as dominant as the TP52 Vesper, winning four races, finishing second in four others and winning the division by 10 points. Just twelve pts back and only 2 pts out of second was Paul Milo's J/122 ORION from Leesburg, VA.  While they could not match the consistency of AUGUST WEST, they still won two races on their way to a third place in class.  For more IRC East Coast Championship sailing information
---
J/122 JOSS Wins Western Australia IRC Champs
(Freemantle, WA, Australia)-  "Onboard our J/122 JOSS, we opened our Valmadre Cup campaign with 2 top 3 placing's– leaving the skipper and crew in a state of happy disbelief as it was only our second Valmadre Regatta and JOSS' first IRC State Championships. To walk away with a 1st Place in Division 2 YAH and 2nd Place in the Div. 2 State IRC Championship was a fantastic start.
Like many yacht's JOSS had been struggling all season to find regular crew for river and offshore races. Therefore, before the start everyone was extremely nervous as to how we would perform, as most of the crew had never sailed together.
The conditions were definitely exciting, with a nice strong consistent 15-20 knot breeze, and a moderate 1-2 meter swell clearly designed to test all 50 yachts competing in the 4 Divisions in terms of their crew teamwork & overall race strategies.
Our strategy was simply to sail fast, occasionally sailing a little lower then most of the fleet, making sure our trim and boat handling wasn't sloppy in the choppy conditions.
We didn't try and take an aggressive start, simply wanting to come in fast near the boat end of the line, and find a nice gap. With plenty of breeze and clear air, we managed to maintain good boat speed on the long beat towards the top mark with the whole fleet sailing close together.
Our decision to compromise height for speed paid off and allowed us to round Fairway Buoy in a very good position. We hoisted our "Big Green" asymmetric kite as soon as we rounded the top mark (with a big sigh of relief as it set absolutely perfectly). Our luck was short lived, the tack line soon snapped sending the crew scrambling to quickly drop the kite and attach it directly to the bow sprit, it was re-hoisted quicker than Usain Bolt ran the 100 meter sprint at the last Olympics.  JOSS made good gains downwind, ensuring that we were at the front of the fleet following close behind Giddy Up & Just Cruising.
From then, on the crew worked brilliantly – managing to gybe, drop, hoist, and tack throughout the race without any compromise to our boat speed and managing to pass Just Cruising. On the final leg towards the South Mole finish we set our sights on the lead Div 2 boat Giddy Up who sailed a fantastic race crossing the line 3 minutes in front, just enough to secure them a well deserved and adjusted IRC lead of 23 seconds. JOSS finished 2nd on the water in Div 2 in a time of 4 hrs 15.49 minutes, and as a result managed to take out 1st Place in the YAH opening Valmadre Race.
A big "thanks" to the Fremantle Sailing Club for hosting a wonderful day as well as the 18 boats in Div 2 whom all sailed an exciting and challenging opening race.
An exhausted & somewhat surprised JOSS skipper and crew were more than happy to "Ring the Bell" to celebrate a great days sailing, knowing full well that there will be many more challenges ahead."  Thanks for the report from Patrick Clyne from JOSS.  For more Royal Freshwater Bay Yacht Club sailing information
---
SMOKE & MIRRORS Fiesta Cup Winner!
(Santa Barbara, California)- The 9th annual Fiesta Cup took place on July 17th to 19th at Santa Barbara Yacht Club.  Due to somewhat challenging sailing conditions that were due to the remnants of a Pacific typhoon that originated off Mexico, the J/70 class were just able to squeeze in a regatta with just three races for the entire weekend!
In the somewhat abbreviated event, it was Kenny Kieding's SMOKE & MIRRORS that took advantage of the disparate weather scenarios to take a 1-2-2 for 5 pts total to win the event.  After a slowish start, Pat Toole's THREE BIG DOGS rattled of a convincing 5-1-1 for 7 pts to grab the silver.  Then, showing their experience in numerous J/70 events across the country, Scott Deardorff's crew on CAKE snagged the bronze with a very, very consistent 3-3-3 tally for 9 pts.  Rounding out the top five was Jeff Janov's MINOR THREAT in 4th and Joel Ronning's CATAPULT from Wayzata, MN in 5th.  For more J/70 Fiesta Cup sailing information   For more Fiesta Cup sailing information
---
Transpac Race Update- Tuesday, July 21st
(Los Angeles, CA)- The Transpac YC's 2,225nm Transpac Race has been underway since July 13th when the first of the three starts took place.  First off to Honolulu was Division 7 with four J teams sailing- Yasuhide Kobayashi's J/120 JULIAN from Zushi Marina YC in Japan; Ed Sanford's J/105 CREATIVE from San Diego YC; the Jorgensen Brothers' J/133 PICANTE from Los Angeles YC and Paul Stemier's J/44 PATRIOT from Newport Harbor YC.  On the same start in Division 8 was Robert Pace's J/46 ANDIAMO from Coronado Racing Association.
Three days later, Division 4 took off on July 16th with three J/125s vying for offshore bragging rights.  The trio includes Greg Slyngstad's HAMACHI, Tim Fuller's RESOLUTE and Viggo Torbenson's TIMESHAVER.
Tuesday update- 7/20
In the morning reports, boats in the lead group reported Northeast winds 15-20 knots, with higher gusts in squalls, and good progress being made to Hawaii, even if they are looking for some sun. Paul Stemler's J/44 PATRIOT continues to lead Division 7 and is first in ORR Fleet overall with 700nm to go!  Greg Slyngstad's J/125 Hamachi is leading Division 4.  Here are recent reports from J/Teams on the race track.
J/105 CREATIVE:
"We noticed there wasn't much tension on the backstay, and after some investigation discovered that the forestay had detached from the mast. It was being held up by the halyard only (jib was furled). After a few hours of bravery and ingenuity, we dropped the forestay and jib onto the deck, rigged up a temporary forestay, and are continuing on our way to Hawaii, although at a more cautious pace. Everyone is bummed, but we are all safe and still able to sail the boat, so onward we go!"
J/125 RESOLUTE:
"We tried to readjust our bobstay in the very front of the boat. It's a high strength line that connects to the outboard end of our sprit pole through a hole in the bow at the water line. Well it appears we broke the caulking seal around the line that goes through the bow, and as a result we are taking on a fair amount of water. We slipped a tennis ball we had on board (on the anchor ends) over that line and pushed it against the hull to act as a damn. We then layered 5200 caulk over the secure end of that line inside the boat. That has minimized things for now but we'll have to keep applying that over time and hope it dries wet as 3M advertises."  Thanks for these two "untold stories" from Scuttlebutt- http://www.sailingscuttlebutt.com/2015/07/20/transpac-race-the-untold-stories/
J/125 TIMESHAVER:
"So we decided to abort the Cabo Race record attempt (since that seems to be popular these days) in order to join this race that was going on north of us. Everyone was talking about bad weather… well, we were burning up hot and I took a look around and realized this was not Transpac! We found a place to gybe, the wind finally cooperated, and we ripped along all afternoon doing 10+ and into the night we saw 20kts of wind with speeds of 15! Clouds and pitch-black skies meant we entered the race course. We are still behind by a fair amount but now we are in line with the weather and progressing up the rankings. On YellowBrick at 10:30pm last night we were going 2 kts faster than our entire fleet. Finally. We managed to make up some distance and pass some 50s and other randoms so we are a little more excited." Read more of Keith Magnussen's report here on Sailing Anarchy-http://sailinganarchy.com/2015/07/19/dont-be-a-stranger/
While the warm tradewinds are still a rumor, the field is enjoying offwind angles as they aim toward the Mai Tai mainland. Looking forward, there are some potholes ahead that the northern route will help to avoid, though the wind has been clocking, enticing some of the northern teams to bite on the shift and gybe. Time will tell whether the consolidation bites back.
All boats have GPS trackers provided by Yellowbrick, where the boat's position, speed and heading will be continuously reported on the Yellowbrick website (with a 6 hour delay). Sailing photo credits- Sharon Green/ Ultimate Sailing.  See Yellow Brick tracker to follow the fleet!   For more Transpac Race sailing information
---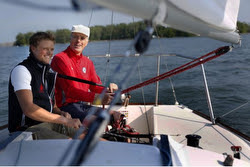 Argentina Gold @ Pan Am Games J/24 Class!
(Toronto, ONT, Canada)- After six days of intense competition, the highly anticipated sailing finals took place in the inner harbour in front of downtown Toronto's most popular urban beaches— Sugar Beach. Set against Toronto's skyline, spectators cheered in particular for their hometown favorite, Terry McLaughlin, who was sailing in the J/24 class series.  In the end, McLaughlin's fourth in the J-24 medal race Sunday enabled his team to claim the silver medal on the final day of the sailing regatta at the XVII Pan American Games in Toronto.
Sailing off the Royal Canadian Yacht Club, McLaughlin, a graduate of Queen's University and silver medalist in Flying Dutchman class at the 1984 Olympics, ended the 13-race competition with 39 points, 12 points behind gold medalist Matias Pereira of Argentina.  The Argentineans' gold-medal winning team consisted of the skipper Pereira, Guillermo Bellinotto, Federico Ambrus and Juan Pereyra.
Pereira, who won half of the 12 races in the preliminary series, was third in Sunday's final race, which was won by Brazil's John Spear King. It was the only win of the regatta for Spear King, who finished fifth overall.
Matias Seguel of Chile, who closed to within striking distance of McLaughlin with four consecutive top-two finishes on Thursday and Friday, was fifth Sunday to maintain his position for the bronze medal.
McLaughlin's crew consisted of David Jarvis, David Ogden and Sandy Andrews.  "It's great to sail in Toronto," said McLaughlin. "I live on Toronto Island, I rode my bike over every day! I felt like it was just another finals in the York Cup, which is a match race and regatta here. It felt very normal for me."  Formore J/24 Pan Am Games sailing information
---
Fun Larchmont Race Week!
SLINKY (J/70) & LOU LOU (J/105) Triumph!
(Larchmont, NY)- Larchmont Race Week got underway on July 11-12 with the second half held July 18-19 to complete the 117th edition. Returning this weekend were the racer/cruiser division and the one-designs. All fleets enjoyed the continuation of competitive racing in a 3-5 knot southwesterly breeze on Saturday and a late-filling 6-12 knot southwesterly on Sunday. Thirty boats sailed on the cruising course with 18 in the PHRF spinnaker division and 12 in the non-spinnaker group. Three races were completed in each fleet. This weekend also included a distance race around Execution Light on Sunday, an event new to the Race Week format.
"The addition of the distance race to the Race Week format added some fun and variety," noted Cruising circle PRO Jed Kelly. One-design PRO Nick Langone was able to run seven races for the fleets.
Winning the nine-boat J/105 fleet was Paul Beaudin from Harlem Yacht Club on LOU LOU. Jeremy Henderson and Harald Edegran's CONUNDRUM and the American YC Jr. Big Boat Team's YOUNG AMERICAN rounded out the top three. Fourth was George & Alex Wilbanks REVELATION and fifth was the Larchmont YC Jr Offshore Team on PRIVATEER.  At this rate of development, it may not be long before the two junior offshore teams will be consistent "players" for the podium in the future!
Scott Bursor's SLINKY overcame a slow start in the thirteen-boat J/70 fleet to win by a comfortable margin.  Sailing faster and smarter all the time are the two Ploch sisters (Madelyn & Megan) on SUGAR DADDY; after winning the first race they hung on to grab the silver.  Third was Ernest Bourassa's ALTHEA followed by Dave Florence's BUZZ in fourth and Dan Goldberg's BAZINGA in fifth.
In the PHRF handicap division, the J/120 SUNSET CHILD skippered by Marcus Cholerton-Brown took third place in PHRF Racing Class.  And, after having to count a DNC in the first race, Carl Olsson's J/109 MORNING GLORY booked a 3-2 to secure 5th overall for the series.  Taking sixth was Chris Clarke's J/32 QUEST.
The J/cruisers enjoyed their outings in PHRF Non-Spinnaker class with Robert Taylor's J/34 MINX placing third and Chris Roe's J/32 ECLIPSE securing fourth in class.  For more Larchmont Race Week sailing information
---
ZIG ZAG Crowned J/109 Eastern Champ
STRATOS Takes J/105 Easterns
(Perth Amboy, NJ)- The Raritan Yacht Club of Perth Amboy, NJ hosted their 69th annual Red Grant Regatta on July 11-12 as part of the yacht club's 150th anniversary celebration. The regatta hosted 56 boats including nine J/105s and nine J/109s, along with several PHRF spinnaker/non spinnaker and cruiser classes. The weather was typical summer conditions for Lower NY Harbor/Raritan Bay with warm temperatures and light breezes of 5-8 knots.
Bengt Johansson and the crew from ZIG ZAG won a very tightly contested J/109 East Coast Championship.  Nine boats from New England, Long Island Sound, Chesapeake and New Jersey raced in the regatta.
Both days had a light Southeast breeze in a strong cross current. After about an hour postponement on Saturday the race committee managed to get two races off before the wind dropped below 3 knots. Racing was very tight with Rosalita, Mad Dogs and Zig Zag tied for first and Morning Glory and Emoticon tied for fourth after the first day.
Sunday the postponement was a bit longer before the breeze settled in at about 5 knots. Racing was again very tight with several boats leading at some point. At the second windward mark the wind got very light and the leader Rosalita briefly got stuck in a hole and got passed by Cosmo, Morning Glory and Zig Zag.  This enabled the set up for Zig Zag to win the regatta with Rosalita second and Morning Glory third.
The Zig Zag crew included the entire Johansson family- including Bengt & Marie with sons Oscar & Victor and four other friends.
The East Coast Championship was the third event in the 2015 East Coast Regatta series that included the mandatory National Championship at Block Island Race Week, the 2015 NOOD Regatta at Annapolis YC, and the 2015 East Coast Championship at Raritan YC. This trophy was awarded to Bill Sweetser and his Rush crew for capturing first place at the NOOD Regatta and second place at the 2015 J/109 North American Championship.
In the very competitive J/105 fleet, Marcus Wunderlich's STRATOS edged out Paul Zajac's SKAL in the last reach of the last race to win the race and take home the regatta trophy by a point over Ann & Gary Myer's MAGIC. MAGIC was unbeatable the first day of the regatta, taking all the bullets. SKAL took third overall.
Over on Circle A, the PHRF Racing classes were sailing all together.  In PHRF A1, four J/29s were sailing against a J/92— about the same length boat!  Prevailing amongst the J/crews was Jim Mackevich's J/29 FOR SAIL, finishing 4th in class.  Just behind in 5th place was Tom & Julie Sinatra's J/29 SMOKIN J and in 7th position was Sandra Gray's J/29 MOJO.
The PHRF A2 racing class had eight J/Boats teams in a fleet of eleven boats!  As a result, those J crews took 6 of the top 7 places.  Steve Buzbee's classic J/30 BLUE MEANIE took 2nd in class.  Just behind them, a tie-breaker determined the outcome for two J/24s with Dan Busch's BUSCHWHACKER taking 3rd while Doug Olsen's OUTER LIMITS took 4th.  Next was Tim Mahoney's J/80 CANNONBALL in 5th
In the PHRF Day Cruiser race, it was Donna Paganos' J/35 TEN YEARS AFTER that managed a relaxed 7th place in class.
The regatta benefitted the charity Easter Seals of New Jersey and had the lead sponsor of Goslings.
For more Red Grant Regatta sailing information
---
MADELEINE Crowned J/24 UK National Champion!
(Plymouth, England)- Over the July 17th to 19th weekend, the UK J/24 Nationals were hosted during Plymouth Regatta by the Royal Western YC and the Port of Plymouth Sailing Association.
The sailors enjoyed fantastic sailing conditions in the more sheltered conditions inside Plymouth Sound.  With minimal tidal influences, the waters off Plymouth were perfect for close, competitive racing in the southwest UK's premiere event.
The J/24 Nationals were a hotly contested program.  However, asserting their recent hegemony on the fleet again was none other than Duncan McCarthy's MADELEINE.  While they were pretenders to the throne of "King J/24", Dave Cooper's JAWBREAKER could not maintain the blistering pace and simply brilliant tactics displayed by the MADELEINE boys, having to settle for second overall.  Having their moments as well was Roger Morris' JOLLY ROGER, but their inconsistencies were overcome and they still managed a bronze in the end.  Rounding out the top five were Nick McDonald's CACOON in 4th and Daryl & Matt Conyers' UNITY LETS in 5th.  For more UK J/24 Nationals sailing information
---
Pincus Wins J/24 Florida States
(Miami, Florida)- The J/24 Florida State Championship Regatta is a regatta that Miami's J/24 Fleet 10 started a bunch of years ago in the summer to have a regional district type regatta to sail on the years when we were not awarded the D10 District Championship.
It has become a popular regatta for the D10 boats from around the state, with Davis Island YC's Fleet 86 usually showing up with the most out of town boats. Three of the 4 out of town boats were from DIYC again, one from St Pete YC and the 2 or 3 from Melbourne did not make it this year due to prior commitments.
We were looking at 17 boats originally, but ended up with 13 on the line Saturday with nice average 10-knot breezes out of the S/SE that were pretty much ideal sailing conditions for Biscayne Bay. Four races were planned for Saturday but a squall took the wind away after 3 races and we proceeded to the dock for the annual Florida States party at the Pincus J/24 Clubhouse.
Back out on Sunday for hopefully 3- 4 races to complete the regatta … But, we experienced no sailable winds until almost 1pm. Lots of swimming, music and joking around until then when the RC managed to get 2 nice races in before the 2pm cut off and we were back at the docks by 2:45 for pack up and awards.
As a result, the SCOUT's HONOR team of Mark Pincus, DeLisser, Amaducci and Adylotte took first overall with 18 pts total.  Behind them, it was an all-out dog fight for the balance of the top five positions.  Just holding onto second place was Ben Givens' crew on SABOTAGE (Richardson, Chaves, Rabbit and Capuano) with 21 pts.  Only one point back in third was John Poulson's team on LONG SHOT with 22 pts.  After that, just one point separated next two boats with Patricio Sly's MUY MUY taking 4th place and Patrick Frisch's ZIA occupying 5th position.
This regatta was also the qualifier for the US Sailing Mallory Adult Championship being held at the Manhattan Yacht Club in October – with the team from USA 3416 "Scouts' Honor" making plans now to attend.
---
J/35 RITUAL Crushes Lake Erie Interclub Week
(Erie, PA)- The Lake Erie Interclub is a five-day regatta "cruise" organized and hosted by the Buffalo Canoe Club, Buffalo Harbor Sailing Club, Buffalo YC, Erie YC, Port Dover YC, Dunkirk YC and the Sugarloaf Sailing Club- all clubs located at the far eastern end of Lake Erie and not far from the famous Niagara Falls.  The event consists of with 3 port-to-port races and 2 in port races: #1- Erie
Course Race, #2- Erie to Port Dover, #3- Long Point Bay Course, #4- Port Dover to Port Colborne, #5- Port Colborne to Point Abino.
The event draws a substantial contingent of J owners, from J/80s up to J/160s across the four PHRF classes.  Not only winning class, but winning overall honors was the J/35 RITUAL, owned and skippered by John Vallee.  According to Vallee, "Our J/35 just won Class B with a scoreline of four straight firsts!  Even better yet, we also won the PHRF Overall in a 60+ boat fleet with a record of 3-3-1-1-2 for just 9 pts!  That's pretty good for a lovingly maintained 1989 boat!!"
In fact, the J/35s in PHRF B class nearly swept the podium, with stablemate POISON IVY II helmed by Jim Kondziela taking 2nd in class and 5th overall in fleet and Bill Hertel's MAGIC taking 4th overall, just 2 pts out of third!
In the other classes, the J/160 LAKE SHARK sailed by John Bloomstine took 4th in her PHRF A fleet.  Finally, in the PHRF C fleet, Pat Huntley's J/80 GRAFFITI also walked off with her class honors counting three bullets in their scoreline, good enough to also take 3rd overall in the entire fleet!  For more Lake Erie Interclub Regatta sailing information
---
J/24 DEJA VU Wins Trophy Grassi
(Mandello del Lario, Italy)- The fourth stage of the five race Italian J/24 National Championship series took place on the eastern end of Lago di Como in northern Italy.  The event was hosted by the Leggio Navale de Mandello del Lario and it also commemorated a famous Italian Star sailor.
The "breva" wind blew generously across the lake and allowed a nice long windward-leeward course to be laid out by the RC's PRO Alberto Zerboni.  After four races were completed over the weekend by the dozen J/24s, the victory for this stage went to DEJA VU sailed by the J/24 del Lario Alfio fleet captain- Ruggero Spreafico.  DEJA VU's scoreline of 4-4-1-1 for 10 pts was just enough to win over Marco Stefano's GRIFFON KONG team that posted a 1-6-2-2 for 11 pts to take the silver.  Third place went to BRILLANTE sailed by Pierluigi Puthod, who managed to post a 5-1-5-4 for 15 pts total.
After four events and sixteen races to count so far in the Italian J/24 National Championship series, DEJA VU is currently leading with 22 pts, followed closely by SPLENDIDO with 23 pts.  Then, in third is GRIFFON KONG with 25 pts, fourth is Sergio Agostino's BRUSCHETTA with 61 pts and fifth is Marzio Tavecchio's ELSA BORN FREE with 63 pts.
The summer series will conclude with the fifth stage organized by the Domaso Rowing Club on the 19-20 September.  For more Italian J/24 Nationals sailing information
---
VENONA Tops Edgartown Regatta
(Edgartown, Martha's Vineyard, MA)- Running for decades, the Edgartown YC Annual Regatta regularly attracts strong one-design competition from across New England.  The event has been famous for participation by the Kennedy family from Hyannisport, MA in their fabled Wianno Seniors.  Indeed, in this year's event, the Wianno's were the largest one-design class participating with over twenty boats.
The "new kid on the block", not surprisingly, is the J/70 class.  Teams from Edgartown YC and Vineyard Haven YC joined in the fun-in-the-sun for a great weekend of sailing.
The regatta turned into a bit of a duel between the top two boats, Alex Meleny's TRUCKIN and Roland Vandermeer's VENONA. After splitting the first three races for the top two positions, it was clear neither boat was going to "roll over" and play dead.  Even after winning the last race, Meleny's crew could not overcome VENONA's four bullets to settle for second overall.  Kudos to Vandermeer's VENONA team for taking the inaugural J/70 Edgartown Annual Regatta championship.  Taking third was Tyler Young's YACHTDOG with 19 pts; fourth was Dan Pesch's AMONINI and fifth was Mike Eberstadt's ARTEMIS.  For more Edgartown Annual Regatta sailing information
---
J/Community
What friends, alumni and crew of J/Boats are doing worldwide
———–

* Nicole Breault victorious in ISAF Nations Cup Grand Final!  It seems it pays to sail a lot of one-design regattas with top-notch competition in J/22s, J/105s, J/80s and so forth.  In Vladivostok, Russia, Nicole came home with the gold medal in the Women's match race division!
The ISAF Nations Cup was first introduced to the world in 1991, with Open and Women's contests based on a series of Regional Finals with the top crews meeting at the Grand Final. The eighth edition of the match racing championship was held July 15-19.
Breault had been looking strong coming out of the final round-robin with a perfect four from four record. The American con